Welcome to the AASL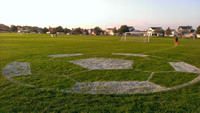 Welcome to the site of the American Amateur Soccer League. The AASL is a community-based, competitive youth travel soccer league serving forty communities in the northern half of Ohio. Communities range from as far west as Sandusky, east to Mentor and south to Mansfield . Last season over 4500 players and coaches registered to play on 400 teams.
AASL is a proud member of the Ohio Youth Soccer Association - North (OYSA-N)
Bothwell,Northern Ohio's State Tournament October 17-19th
The Bothwell Tournament is Ohio's Premier Tournament for travel / competive teams in Northern Ohio.
Enter and play against the top travel teams from Northern and Southern Ohio and the surrounding States. Winners from Ohio North Youth Soccer Association in the U13-U14 age groups are eligable to play in the USYS President Cup
Contact Information and Field Assignments
All game fields must be assigned to all scheduled games. All contact information must to be update on website
Home field schedules
Home field schedules must be sent to the designated community assignor listed on the AASL website as soon as completed
You must allow them adeuate time to assign an Official to the matches
2014 Fall Declarations
Online Declarations opens June15 - closes 11:59 Sunday June 29
Remember to declare your teams using the on-line declaration page. It can be found in the League->Declarations menu after logging in. You can find an instruction sheet on how to declare your teams in the Information->Procedures section. Make sure you read the instructions as it has important information regarding how to declare both boy's and girl's teams for this season.
Team declaration fees are as follows
U8 $85 per team
U9- U15 $115 per team
mail declaration fees to

AASL
5065 Fox Haven Dr
Medina Oh 44256
Return to Play Law 143
Ohio Law 143 or the Return-To-Play Law will go into effect on April 26,2013. Ohio Gov. John R. Kasich signed the state's new youth concussion rules into law after passage by legislators. The law requires youth coaches, officials and referees to complete free, basic online training about concussions.All coaches (including assistants) and referees are required to take the online concussion course before April 26, 2013. At the present time only the National Federation of State High School Associations (NFHS) certificate will be accepted by AASL until faults in the Center for Disease Control system are fixed. NFHS online training course requires the applicant to view the entire training video before obtaining a certificate. NFHS course (http://www.nfhslearn.com/electiveDetail.aspx?courseID=38000) will give the AASL and OYSAN the ability to verify the certificate when necessary. The NFHS online training video is free and requires very little time to complete.

for more information:

http://www.oysan.org/For_Coaches/Concussion_Training.htm

http://www.healthyohioprogram.org/concussion.aspx