Welcome to the AASL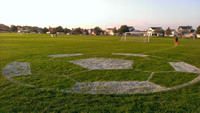 Welcome to the site of the American Amateur Soccer League. The AASL is a community-based, competitive youth travel soccer league serving forty communities in the northern half of Ohio. Communities range from as far west as Sandusky, east to Mentor and south to Mansfield . Last season over 4500 players and coaches registered to play on 400 teams.
AASL is a proud member of the Ohio Youth Soccer Association - North (OYSA-N)
2016 Spring Declarations are now Open January 6 th
Online Declarations to open 1/6/16 - closes 2/13/16 11:59 PM.
Remember for Reps to declare their teams using the on-line declaration page. It can be found in the League->Declarations menu after logging in. You can find an instruction sheet on how to declare your teams in the Information->Procedures section or you can click on the following link:
All Returning Teams and New Teams of Current AASL Community Clubs from the Fall of 2015 Declaration Fees will be waived
Team declaration fees are as follows:
U8: $95 per team
U9 - U15: $115 per team
mail declaration fees to:

AASL
5065 Fox Haven Dr
Medina Oh 44256
Spring Registration for 2016 opens January 15 Th
Registration fees for new members and Players transferring from another league or community are $14.00 per member. All dropped from a community or transferred players from one community to another community must complete player status form. The form must be included in the registration packets along with the AASL age verification/certification/Residency/Requirement and concussion appliance sign off form
ALL registration Fees must be included at the time of Registration. Registration will not be processed or returned until all fees are paid.
Registration may be turned into Tina Marianut at the February meeting or must be mailed in, delievered prior to or on March 20th to be eligible to participate in the first game of the spring
Please login and go to registration page to get address for Tina Marianut.
Thank you.

AASL Referee Fees 2016
U 8-9-10 (6V6) $35.00
U11-U12 (8V8) $40.00
U13-U14 (11V11) $45.00
U14 (AASL/ GAASA) $40.00 Center $22.00 AR
( 3 Referee System)
Home team pays Referee before the start of the match
Referee are required to check all coach /player passes
in the case of a referee not checking passes
coaches shall request to have the passes checked by the referee before starting of play