Welcome to the AASL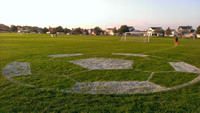 Welcome to the site of the American Amateur Soccer League. The AASL is a community-based, competitive youth travel soccer league serving forty communities in the northern half of Ohio. Communities range from as far west as Sandusky, east to Mentor and south to Mansfield . Last season over 4500 players and coaches registered to play on 400 teams.
AASL is a proud member of the Ohio Youth Soccer Association - North (OYSA-N)
Attention : October 11th updated to Tuesday October 13th
The AASL July Meeting will be held at the
Middleburg Heights Community Center
16000 E. Bagley Road
Middleburg Heights 44130
440.234.2255
Bothwell,Northern Ohio's State Tournament October 16-18th
The Bothwell Tournament is Ohio's Premier Tournament for travel / competive teams in Northern Ohio.
Enter and play against the top travel teams from Northern and Southern Ohio and the surrounding States. Winners from Ohio North Youth Soccer Association in the U13-U14 age groups are eligable to play in the USYS President Cup
http://ohionorth-2015bothwell.affinitysoccer.com/tour/index.asp?sessionguid=
Contact Information and Field Assignments
All game fields must be assigned to all scheduled games. All contact information must to be update on website
AASL Referee Fees For Fall 2015
U 8-9-10 (6V6) $35.00
U11-U12 (8V8) $40.00
U13-U14 (11V11) $45.00
U14 (AASL/ GAASA) $40.00 Center $22.00 AR
( 3 Referee System)
Home team pays Referee before the start of the match
Referee are required to check all coach /player passes
in the case of a referee not checking passes
coaches shall request to have the passes checked by the referee before starting of play